The trap one often falls into is to focus on one of those to which the typical response of the [h-bd] convert is to eithera) completely ignore itb) dismiss it as an "outlier" or "an exception to the rule" which rather betrays complete ignorance of Popperian falsification. If you really don't understand this point, imagine "exceptions to the rule" of gravity.–Frank McGahon
This has to be one of the silliest comments I have ever read.
As I am not a huge fan of Lynn (he does have WN aka "whining Nazi" tendencies), I will not go at length to defend L&V, though their data *is* remarkably close to TIMSS data. However, when one is dealing with an issue like h-bd, one has to go with the weight of evidence–not stick with PC until one meets some ridiculously high standard of evidence; almost any social science data will have outliers. Setting a high standard of evidence is what people do when they're cornered; e.g. the tobacco companies denying that cigarettes are addictive and can cause cancer. The h-bd issue we are dealing with here is this: are there nontrivial differnces in coginitive ability between different populations? This seems a perfectly reasonable question to ask. Remember, even with typical U.S. IQ figures, we only see about 10 to 20 percent of variance between racial groups (the mean IQ figures E. Asian=103, Black=85, Latino=90, Euro=100, SD=15 give 13% of variance between groups). However, while the variance in almost any trait is primarily within races, it does not mean that between-group variation is trivial. One need only see the poor economic and academic performance of Hispanics (on average) in the U.S. to see this.
Given what we know about biological factors that can affect intelligence (such as NMDA and GABA activity during development), what we know from twin studies, and what we know about the correlation between white matter in the brain and IQ (just to name a few), Bertolt Brecht's* conclusion that all disparities are "a product of history, not nature" simply seems loony. Unfortunately, all too many who describe themselves as conservatives and libertarians seem all too willing to go along with Brecht.
*Communist writer in the 1920s and 1930s.
GC comments:
More to the point, if you're using words to describe an inherently statistical phenomenon, it is easy to make it seem like your objections and nitpicks are powerful. If there are 10 outliers on a height-weight scatterplot with 1000 points, those inclined towards verbal sophistry can say: "There are at least 10 things that don't fit! First, there is Jane, the anorexic 6'4″ woman. Then there is Steven, the 5'0 200 lb man. Then there is…" and so on down the list. Because of the way the human mind works, if you can fill up a page of text with objections, you can make yourself think that you've come up with a powerful counterargument…even when the substantive trend is unaffected by these nitpicks.
With respect to the wealth of nations, which was the topic discussed in the thread, the trend is fairly clear: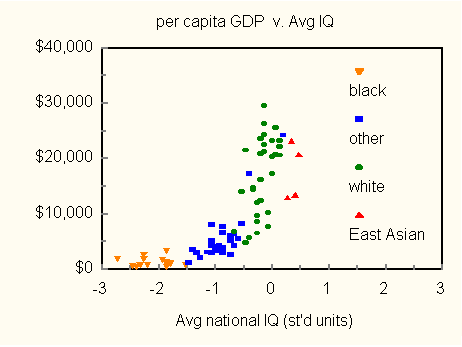 NOTE: I know the graph has to be updated. The data is now about 5 years old. It would be trivial to do the update with the aid of Nationmaster, and maybe I'll do so in the next few days. But in any case, even if you neglect the x-axis and the correlation and the scatterplot and just look at the histogram of points on the y-axis (GDP-per-capita of each nation), the relationship between ethnicity and GDP-per-capita is clear, EVEN IF you believe IQ is not the explanatory variable.
Now, yes, individual nations matter. Yes, you can point out that there is an overlap by comparing Bermuda to Russia. Yes, most of the outliers can be explained through historical arguments whereas others are more puzzling. But the trend is clear.
However, if you are intent on obscuring this trend, you can do so by avoiding graphs and equations entirely. This is the tactic of Ned Block and Stephen J Gould. One cannot understand the technical aspects of heritability or evolution without equations or graphs…but one can certainly make others misunderstand said technical aspects if one is so inclined.
Posted by bb at 09:10 AM